Have A Question About Crane Training, Certification or Inspection?
Why More Crane Operators Choose Us
Reputable, Proven & Affordable
We value your time and deliver the results you depend on.
2023 NCCCO Platinum Award Winner
Crane U is the winner of the 2023 Platinum Training Provider Award.
HIGH PASS RATE = NO WASTED TIME
We teach everything you need to pass and nothing you don't.
Highly Experienced Trainers
Crane U's training staff have over 100 years of real-world experience.
Fast, Efficient & Comprehensive
We value your time and get you certified & back on the job quickly.
TONS OF REAL CUSTOMER REVIEWS
The Crane Operators we train have no problem telling others about us.
Seth Ferryman
August 17, 2023
Classes were good, the teachers took time to explain things if there was confusion and helped people individually. Francis and Scotty, the owners personally saw to it that I got enough seat time until I felt comfortable to taking my practicals. It was a great school in my opinion
Alberto Cortes
August 17, 2023
This is a great team! I am very pleased with the training and all the help they've provided to make this an easy process!
Rufus Rodgers
August 17, 2023
Couldn't have asked for a better training program. When I started class I didn't know anything about cranes and by the end of the week I felt totally confident to take the exams. Best program I've ever been in and the staff is amazing! Thanks Crane U! Back at Crane U for the second time, 11 months later for more crane certification. The program is still top quality. The staff is still the best.
Chris Johnson
August 17, 2023
Super nice people and facility
Hilton Brooks
August 17, 2023
Very detailed. Good folks with great attitudes!
Paul Nolin
August 17, 2023
Awesome place, great people. Super knowledgeable and helpful staff.I would 100% recommend coming here for any of your certs/recerts.
William Hicks
August 17, 2023
Very nice environment for everything involving any crane certification! Nice classrooms, nice smooth cranes, and knowledgeable instructors!
Blake Barnard
August 17, 2023
Great experience
Brett Stephens
August 17, 2023
Crane U is a great place to expand your knowledge and learn valuable skills! The instructors make everything simple to understand and retain. Everyone is very kind and welcoming to anyone who walks through the doors! Would recommend to anybody!
Comprehensive Crane Training, Crane Certification, and Crane Inspection Services.
Crane U is truly a full service crane operations and training company. Our mission is to make everyone involved with crane operations safer. Whether you're looking for annual crane inspection, need Certified Crane Operator training or even an expert witness, Crane U does it.
Have A Question About Crane Training, Certification or Inspection? Let's Talk!
Call: 855-9CRANEU (855-927-2638)
or 205-478-2050 today!

Onsite. Online. Train the Trainer.
You choose the time, place, and method. We'll exceed your every expectation. While many operators choose to attend our award winning crane training and certification facility that's centrally located in the southeast, we also have the capability of coming to you. If your company has a large group of crane or forklift operators and has the proper equipment, call us.
Making Your Job Easier and Your Job Site Safer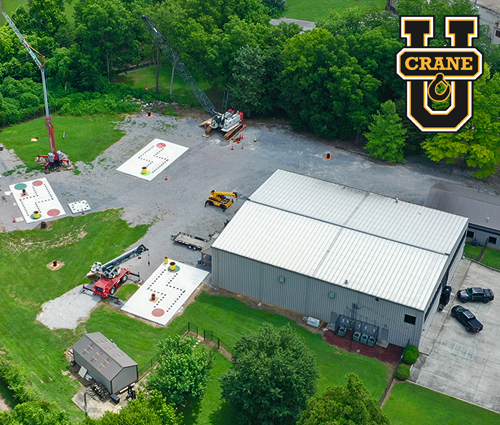 Let us improve your workplace and help your company stay in compliance by providing heavy equipment and safety training for your employees and meticulous equipment inspections.
Crane Training. Crane operator training and crane safety inspections are our bread and butter. If you want the experts, you've come to the right place.
Crane Inspections. Crane U is qualified to inspect cranes as per OSHA 1910, 1926, and ANSI/ASME guidelines. Mobile, Crawler, Overhead? We inspect them all.
Comprehensive Crane Services
Forklift – When it comes to construction equipment training and inspection, we've got your job site covered. Forklifts included.
Aerial Lift – Turn to the pros for aerial lift training and heavy equipment inspections you can count on.
Overhead Crane – Obviously, Crane U knows cranes. And that includes overhead cranes. We'll show your team how to use them, get them prepped for exams, and if you want us to, inspect every last inch of them.
Fall Protection – Get fall protection training that gives your employees the practical understanding they need — from proper harness use to anchorage selection — to really improve workplace safety.
Rigger/Signalperson – Our Crane Rigger/Signalperson Qualification and Certification Training includes rigging and hand signals, preparing students for nationally accredited Rigger/Signalperson Certification exams.
Expert Witness – Need an expert witness? Make sure you get an expert. Truth is, that's all we have here at Crane U.
Customized Environmental, Health, and Safety Training – We are authorized to perform everything from OSHA 10 and 30-hour training, to scaffolding safety training, to elevated/storage tank safety. You tell us what you need, and we'll take care of the rest.
Nationwide Crane Operator Training and Certification Course.
Crane U offers our crane inspection, qualification and certification services locally, in all 50 States and Anywhere in the World! Call or Contact Us today for scheduling.