Inspection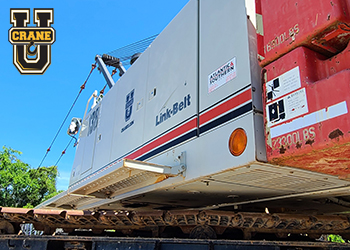 When it comes to crane inspection, there's no room for cutting corners or finding shortcuts.
Safety has to be priority number one since lives are usually on the line. Before you put any heavy lifting equipment into use, consider getting a proper inspection first. The peace of mind it brings is priceless.
Need a Crane, Aerial Lift or Fork Lift Inspection? We're thorough and do it right the first time!
Call: 855-9CRANEU (855-927-2638)
or 205-478-2050 today!
Crane Inspections
Regardless of the type or style of crane you have, we have the knowledge and experience to inspect it. There isn't a crane out there that we haven't seen or provided a detailed report on. What's more, you can trust the reports we provide because we don't repair cranes, just inspect them.
Some of the types of reports we provide are for:
All of our certified inspectors follow a rigorous 222 item checklist. Plus, they know the OSHA standards better than most. The end result is that if there is anything wrong or failing with your equipment, you'll know about it, with facts, period.
Forklift Inspections
If its been more than a year or you've altered or modified your forklift in anyway, you know that OSHA requires a forklift inspection. Furthermore, only a company or a person who is qualified can perform the service. Crane U has you covered!
By following a 46 point checklist, we ensure nothing get left out of our reports. Let's face it, you're paying us to find any problems or issues with your forklift. If we do, we'll provide the evidence to support it items we found.
The Unbiased Inspection Experts
Trust goes beyond words. When it comes to being able to believe in the forklift or crane inspection we provide, reputation counts. Our customers rely on us because we've got decades of operator experience and we don't fix or repair equipment.
They know that we have nothing to benefit by showing you what needs to be repaired or serviced in our reports. We simply want you to have the safest crane and forklift equipment you can have for your operators.
We provide forklift and crane inspection services Nationwide, including: Alabama, Georgia, Tennessee, Louisiana, Ohio, Kentucky and Indiana.
MAKE THE SAFE CALL
Crane U
7460 Frisco Ave
Leeds, AL 35094
Toll Free : 855-9CRANEU (855) 927-2638
Local: (205) 478-2050
Get Connected
At Crane U, We Train Crane Operators and Inspect Cranes All Throughout The United States of America and Select Locations Internationally.
Call or Contact Us Today!

CraneU
Specializes in Crane Operator Certification & Training,
Crane Operator Evaluation
, Crane Inspections, Rigger Certification & Training and Signal Person Certification & Training
Nationwide
, including:
Alabama

: Birmingham - Mobile - Tuscaloosa - Huntsville |

Georgia

: Atlanta - Macon - Savannah - Valdosta |

Tennessee

: Nashville - Memphis - Knoxville - Chattanooga |

Louisiana

: New Orleans - Baton Rouge - Shreveport |

Kentucky

: Louisville - Lexington - Bowling Green |

Indiana

: Indianapolis - South Bend - Gary - Ft Wayne |

Ohio

: Cincinnati - Columbus - Cleveland |

Illinois

: Chicago - Joliet - Des Plaines - Springfield, IL |

Mississippi

: Jackson - Biloxi - Meridian - Vicksburg |

Missouri

: St Louis - Kansas City - Springfield, MO - Joplin - Branson |

Texas

: Houston - Baytown - Beaumont - Corpus Christi - Dallas (DFW) - Ft Worth - Texarkana - Denton, TX |

North Carolina

: Charlotte - Asheville - Raleigh - Winston Salem |

South Carolina

: Charleston - Myrtle Beach - Greenville - Spartanburg