Training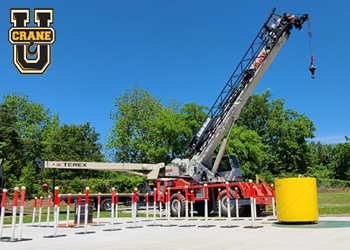 Love it or loathe it, crane training is not only necessary it's the best way to keep you safe and proficient.
How you get the training you need is another story. There is a reason why more and more crane operators are choosing Crane U to sharpen their skills and get NCCCO™ certified too.
Come to us or We'll come to you.
Get the crane training you need today!
Call: 855-9CRANEU (855-927-2638)
or 205-478-2050 today!
Whether you need training for a mobile crane, an overhead lift, or even a forklift, we can make it happen. Count on us to make the most of your time here and get you back to work quickly.
Crane Training/ Certification
There are many reasons to chose us to train you or your people. Here are just a few deciding factors.
Decades of Experience.
At Crane U, our dedicated instructors are some of the most respected crane experts out there. They teach based on real world, first hand experience, not just out of a book.
History of Success.
The majority of students who successfully complete our training program go on to pass their certification exams.
Affordable and Convenient.
You can chose any of our locations throughout the United States or we can come to you. Keeping with the times, some of the training can be done online too. The cost for training with Crane U is more affordable than you know. Call us for a free price quote on the specific type of crane training you need.
Types of Crane Training
We specialize in the following types of crane training and more:
At the end of the day, you have to ask yourself a question. Do you learn better from instructors who have a ton of hands on experience with cranes, or do you learn better from someone who just read a lot about them?
If you're like most crane operators we've taught, then you learn best from industry experts, not bookworms. Crane U was made for people like you.
We provide crane training Nationwide, including: Alabama, Georgia, Tennessee, Louisiana, Ohio, Kentucky and Indiana.