Snorkel™ Lifts, Handlers and Loaders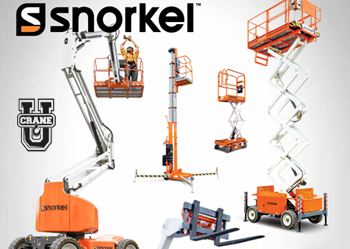 Did you hear that Crane U is an Authorized Reseller of Snorkel™ Scissor Lifts, Boom Lifts, Mast Lifts, Material Lifts, Speed Levels, Telehandlers and E-Z Loaders? It's true!
After all, the nation's most trusted crane certification, training, and inspection company is a great place to source the best equipment!
Do you want us to call you? No problem! Simply fill out the short contact form on the right.
So, whether you need lifts, loaders or telehandlers, we can sell you the appropriate Snorkel™ equipment to get the job done.
Call 855-9CRANEU for information about
Snorkel™ lifts and loaders!
We are a factory authorized reseller and we
highly recommend their equipment.
Snorkel™ Lifts, Handlers & Loaders For Sale
Quality is a part of the culture at Snorkel™. It is built into everything they do. They build to the highest standard to deliver the highest quality. Their equipment is simple, reliable, and robust. Building aerial lifts that deliver time and time again is at the core of every Snorkel™ design. Produced with high-quality materials and ergonomic designs, Snorkel™ lifts work hard to make tough tasks simple.
Scissor Lifts
Always up to the task is what defines Snorkel™ scissor lifts. They've raised the bar with a full line of scissor lifts suitable for indoor and outdoor applications. These lifts are engineered to deliver high-reaching performance at a low cost of ownership. All Snorkel™ scissor lifts are built with durable, heavy-duty steel and over-engineered components. Designed with compact dimensions, the lifts fit in confined spaces or through standard doorways and are both nimble and efficient with optional bi-energy on select models.
Ranging from low level, rough terrain, or electric, the Snorkel™ line of scissor lifts spans maximum working heights from 12 ft. 6 in. (4.0m) to 45 ft. (13.9m) and maximum platform capacities from 500 lbs. (227kg) to 1,500 lbs. (680kg).
Boom Lifts
Snorkel™ boom lifts are precisely what you need to safely lift people to work at height. It's pretty straightforward – superb maneuverability makes it easy to reach areas with limited access. Also known as a cherry picker, Snorkel™ articulated boom lifts provide a full working envelope. Up-and-over capabilities with smooth, proportional controls provide precise operation. High-reaching telescopic boom lifts are simple to operate and simple to maintain, even in rough terrain. Electric boom lifts offer clean, quiet operation and versatility in narrow spaces. Cost-efficient Snorkel™ towable boom lifts are rugged, reliable and a great return on investment.
The Snorkel™ family of boom lifts combines power and precision for efficient working at height. Ranging from 41 ft. 9 in. (12.9m) to 132 ft. (40.4m) in maximum working height, and maximum platform capacities ranging from 425 lbs. (200kg) to 600 lbs. (272kg), there is a Snorkel™ boom lift for almost any application.
Mast Lifts
Look no further than Snorkel™ mast lifts for a stable platform to perform overhead work. A safe alternative to ladders, lightweight personnel lifts step up to the task of lifting people. Both push-around and self-propelled Snorkel™ mast lifts easily fit through standard doorways to offer portable convenience.
The Snorkel™ UL push-around mast lift range includes the UL25, UL32, and UL40. A telescopic Girder Lock mast design provides excellent stability at height and delivers a long working life. Snorkel™ push-around mast lifts can lift from 300 lbs. (136kg) to 350 lbs. (159kg) to a maximum working height ranging from 30 ft. 11 in. (9.6m) to 46 ft. (14.1m).
Self-propelled mast lifts with hydraulic or electric drive can be carried in passenger elevators and driven through single doorways. Snorkel™ self-propelled mast lifts offer a maximum platform capacity of 500 lbs. (227kg) and a maximum working height of up to 31 ft. 6 in. (9.8m).
Speed Level
Finding balance on uneven terrain is a job for the Snorkel™ Speed Level. Tougher than the roughest job site, these agile lifts easily climb gradients up to 50%. The first design of its kind, automatic self-leveling capabilities let operators stand up straight on compound slopes. Its platform can level up to 13° from side-to-side and up to 9° from front-to-back.
The RTE series offers fully electric sigma lifts powered entirely by lithium-ion batteries for long-lasting performance. All Snorkel™ Speed Levels share a common chassis. The SL26RT and SL26RTE have a maximum working height of 31 ft. 6 in. (10.0m) with 1,500 lbs. (680kg) platform capacity and a 3 ft. (0.91m) roll-out deck extension. The SL30RT and SL30RTE have a maximum working height of 35 ft. 4 in. (11.0m) with a load capacity up to 1,300 lbs. (590kg).
Material Lifts
Snorkel™ material lifts do all the heavy lifting. From top to bottom, the robust telescoping mast system features heavy-duty yet lightweight aluminum. Its best-in-class load capacity can move heavy material safely. Quick-fold stabilizers come as standard and a dual-handle, shift-on-the-fly, two-speed winch lift materials quickly for increased productivity. The line of high specification Snorkel™ material lifts are available in a rugged construction series as well as a mini-series that features a reduced height mast to pass through a standard doorway.
Telehandlers
In any direction, Snorkel's rough terrain telehandlers extend a helping hand. Full-time 4-wheel drive and proportional joystick controls allow for tight maneuvering. The highly versatile telehandlers are designed to multitask on the toughest job sites. For any application, each one can lift, reach and haul material up high or on the ground.
E-Z Loader
Hauling equipment is made easy with the line of Snorkel™ E-Z Loader custom delivery truck beds. Ramp up productivity with a quick 17-second ramp deployment for fast loading and unloading. High bed capacities and dock-loading capabilities increase efficiency when transporting and delivering equipment.
Ranging from 12,000 lbs. (5,443kg) to 24,000 lbs. (10,886kg) in bed capacity, Snorkel™ E-Z Loaders are offered in bed lengths up to 27 ft. (8.2m). The custom truck beds can be fitted to a range of chassis for convenience and consistency with an existing delivery truck fleet.
NOTE: Customer to provide chassis. Capacity rating for bed only, vehicle capacity rating dependent on final configuration of chassis, options installed, road regulations, and drivetrain specifications.
Accessory Packages
Enhance your Snorkel™ with accessory packages designed for various applications. All Snorkel™ accessory packages are factory installed to meet the highest quality standards.
We sell Snorkel™ Lifts, Handlers and Loaders throughout the following States:
AL AK AZ AR CA CO CT DE FL GA HI ID IL IN IA KS KY LA ME MD MA MI MN MS MO MT NE NV NH NJ NM NY NC ND OH OK OR PA RI SC SD TN TX UT VT VA WA WV WI WY